"If our product does not do what we say it does, in 30 days we'll give your money back - no questions asked!"
---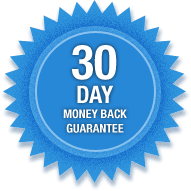 30-Day Money Back Guarantee
We believe that Payrollpinas.com can help you in your payroll requirements. That is why we are willing to offer you a 30-day Money Back Guarantee-no questions asked policy. If you're completely unhappy with the service that we are offering, you can terminate your account and you'll receive your money back.
Each customer is entitled to a FREE 15 - day trial period. The said Free Trial would automatically get disconnected on the 15th day.
The 30-Day Money-Back Guarantee starts on the date your account has been activated and paid for.
The account must be paid first to qualify for the 30-Day Money-Back Guarantee.
A full refund of first month and advance payment shall be given to you upon termination..
Absolutely no questions asked for account termination.
Please allow 7 (seven) days grace period for processing and refund transaction.
---
Satisfaction Guarantee Terms
Our Satisfaction Guarantee Terms apply to all Payrollpinas.com patrons and users. By signing up and fulfilling your payment obligations, you automatically make yourself eligible to all the stipulations stated in our Satisfaction Guarantee terms.
If you are unhappy and unsatisfied with the services of Payrollpinas.com and wish to terminate your subscription, the employer should let us know within 30 days following your account activation by filling up and sending us the "Account Termination" online form available on our website. As stated earlier, no questions will be asked, we will completely refund your first monthly fee including your advance payment without any surcharges or deductions. Refund transactions and processing will take 7 (seven) working days.
---
Exclusions
Claims received after 30-days will still be entertained in our best capacity but would be on a case to case basis only. Programs and features created and customized for a client's particular requirement is not covered by the 30-Day Money Back Guarantee policy.
---
Claim Procedures
In order to terminate your account and avail of the 30-Day Money Back Guarantee, the account owner must complete the "Account Termination" online form and submit to us via Payrollpinas.com facility.
Our objective is to refund your claims the soonest possible time. Processing would take seven working days for all customers situated in the Greater Manila area. However, if an account owner resides outside the National Capitol Region (NCR) wherein sending back of the payment would require money order or wire transfer, a 2-4 week processing time is advised. This given timeframe covers the usual processing and regular transitory delays depending on the proximity of the subscriber's location. Moreover, additional processing fees shall apply for wire transfers and money order to cover fees collected by corresponding agencies.
---
Guarantee Clause
The 30-Day Money Back Guarantee is automatically valid for all Payrollpinas.com new subscribers. Payrollpinas.com reserves the right to modify the present guarantee at any time, without further notice. Such modifications shall be shown on this page.
Accounts terminated by Payrollpinas.com for violating our Terms and Conditions DO NOT qualify for the 30-Day Money Back Guarantee. In other words, if your account is cancelled for spamming or network abuse, you will not be given any refund.
Due to security concerns (such as fraudulent cancellations), all communications with regards account termination must be done through our online "Account termination" form website facility. Phone calls will not constitute acceptance of any cancellation. You will receive a confirmation upon cancellation of your account.